Education & Resources
Changing TB Isolation Practices: New Guidelines for Molecular Testing (Handout)
This is the 1st of two webinars to highlight the NTCA/APHL Consensus Statement on the Use of Cepheid GeneXpert MTB/RIF Assay.
GeneXpert: Examples from the Field (Handout)
This is the 2nd of two webinars to highlight the NTCA/APHL Consensus Statement on the Use of Cepheid GeneXpert MTB/RIF Assay.
Mobile Apps for Healthcare Workers
The CDC mobile application puts health information at your fingertips. It features important health articles, Disease of the Week, popular journals, prevention tips, and updates timed with important health concerns and events throughout the year. It also provides easy access to social media so you can share stories, links, podcasts, and videos with your friends and family. In an increasingly mobile world, you'll have 24/7 access to timely, vital health information so you can protect yourself and your loved ones.
Important Health Content: Health Articles, Vital Signs, Preventing Chronic Disease and Emerging Infectious Disease (EID) Journals, MMWR, Disease of the Week, Public Health Blogs, Director Videos, Image Library, "Did You Know" facts, Social Media, and Newsroom feeds update automatically.
---
This is the official FluView Influenza-Like Illness Activity mobile application created by the Centers for Disease Control and Prevention (CDC).
With this application, you can:
Explore Influenza-Like Illness (ILI) Activity Levels across the US

View ILI trends over several weeks

Get on-demand access to state health department websites for local surveillance information
One of seven FluView surveillance components is to track information received from the U.S. Outpatient Influenza-like Illness Surveillance Network (ILINet). This application displays ILI activity levels based on the percent of outpatient visits in a jurisdiction due to ILI compared to the average percent of ILI visits that occur during weeks with little or no influenza virus circulation (non-influenza weeks). ILINet consists of more than 3,000 health care providers in all 50 states, the District of Columbia and the U.S. Virgin Islands reporting more than 30 million patient visits each year.
---
The CDC Influenza application for clinicians and other health care professionals makes it easier than ever to find CDC's latest recommendations and influenza activity updates on your iPad, iPhone, iPod Touch, or Android devices. When your mobile device is connected to the internet, new information and content will update automatically. This is an official application of the Centers for Disease Control and Prevention.
With this application, you can:
View updated information on national flu activity

Find influenza vaccination recommendations endorsed by CDC and the Advisory Committee on Immunization Practices (ACIP)

Obtain information on diagnosis and treatment of influenza, including antiviral treatment recommendations by CDC and the ACIP

Obtain information on laboratory testing for influenza

Find CDC recommendations on influenza infection control

View videos of CDC subject matter experts discussing influenza topics

Order official CDC designed print products for posting in the workplace or distributing to patients.
---
The Latent TB Infection (LTBI): Guide for Diagnosis and Treatment mobile application for health care providers makes it easy to find CDC's latest LTBI recommendations on your iPad, iPhone, iPod Touch, or Android device. When your device is connected to wireless or cellular service, the content is updated automatically to ensure you always have the most up-to-date information.
This application serves as a ready and useful reference that highlights the main points of key guidelines for diagnosis and treatment of latent TB infection.
Check out these features:
CDC guidelines on latent TB infection

Treatment table outlining regimen options

TB testing and diagnosis recommendations

TB education and training resources

Sample documentation forms for TB testing

Personalize your experience with 
highlighting, annotation, and bookmark 
options

Share the content with others through 
social media, such as Facebook and Twitter
---
The STD Treatment (Tx) Guide app is an easy-to-use reference that helps health care providers identify and treat patients for STDs. STD Tx Guide combines information from the STD Treatment Guidelines as well as MMWR updates, and features a streamlined interface so providers can access treatment and diagnostic information. The free app is available for Apple and Android devices.
Topics covered include:
Diagnosis and treatment of 21 STDs and sexual assault.

Access to the full STD Treatment Guidelines.

"A Guide to Taking a Sexual History."
---
Healthcare professionals who recommend or administer vaccines can immediately access all CDC recommended immunization schedules and footnotes using the CDC Vaccine Schedules app. Optimized for tablets and useful on smartphones, the app shows the child, adolescent, and adult vaccines recommended by the Advisory Committee on Immunization Practices (ACIP).
The app visually mimics the printed schedules, which are reviewed and published annually. Users can identify correct vaccine, dosage, and timing with 2 or 3 clicks. Any changes in the schedules will be released through app updates. This app is one of an expanding collection of applications from CDC on a variety of specific topics, each optimized for your mobile device.
This free tool provides the most current version of the
Child and adolescent schedules with immunization recommendations from birth through age 18

Catch-up schedule for children 4 months through 18 years

Adult schedule, including recommended vaccines for adults by age group and by medical condition

Contraindications and precautions table, with all footnotes that apply to schedules
Features of the app:
Color coding coordinates with printed schedules

Hyper-linked vaccine name opens as a pop-up with dose specifics

Catch-up schedule for children shows minimum dosing intervals

Related vaccine resources and websites are included

Any changes in the schedules will be released through app updates
For more information please visit: Immunization Schedules for Health Professionals.
Share content using social media sites.
---
Mobile Applications for Public Health Workers
Preventing Chronic Disease (PCD) is now available as a free app on your mobile device, bringing you the latest and most relevant peer-reviewed research on public health efforts to prevent chronic disease. Established by CDC's National Center for Chronic Disease Prevention and Health Promotion, PCD publishes articles that cut across sectors and disciplines to address at-risk populations, health disparities, policy and legislation, and technical innovations and interventions that address major public health crises.
Whether you are a researcher, health practitioner, student, or policy maker,PCD provides an open exchange on the very latest in chronic disease prevention, research findings, public health interventions, and the exploration of new theories and concepts.
PERSONALIZE YOUR PCD APP FOR QUICK, EASY ACCESS
Read the most recent articles published

Browse more easily using topic keywords such as obesity, diabetes, heart disease, cancer, and more

Share articles with colleagues on Facebook and Twitter

Search and browse saved articles

Highlight important content

Add your own notes to articles

Bookmark articles for future reference
---
This application provides access to the complete array of publications in the MMWR series, which includes the MMWR weekly, plus Recommendations and Reports, Surveillance Summaries, Supplements, and the annual Summary of Notifiable Diseases. MMWR publications have been in existence since 1952, and today MMWR remains CDC's primary vehicle for scientific publication of timely, reliable, authoritative, accurate, objective, and useful public health information and recommendations.
You can personalize your experience with features like highlighting, annotations, and bookmarks, and you can share the content with others via social media such as Facebook and Twitter. This application is a companion to CDC's MMWR website.
Check out these features:
Childhood and adult immunization schedules

Latest news on important outbreaks

Periodic updates on the current influenza season

Updated recommendations for treatment of TB, hepatitis, and HIV

Reports on emerging diseases and public health concerns
---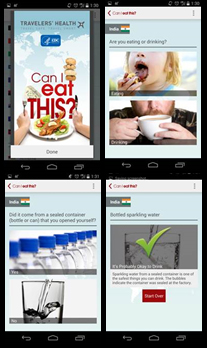 Mobile Applications for Travelers
Montezuma's revenge, Delhi belly, or travelers' diarrhea—whatever you call it, it can ruin your international trip. Help prevent travelers' diarrhea by using CDC's Can I Eat This? app.
Select the country you're in and answer a few simple questions about what you're thinking about eating or drinking, and Can I Eat This? will tell you whether it's likely to be safe. With Can I Eat This?, you can be more confident that your food and drink choices won't make you spend your international trip in the bathroom.
Key Features
Authoritative recommendations from the Centers for Disease Control and Prevention

Access recommendations offline (no data connection needed)

Easy to use and fun
---
2014 Yellow Book CDC Health Information for International Travel (commonly called the Yellow Book) is published every two years by CDC as a reference for those who advise international travelers about health risks.
The Yellow Book is written primarily for health professionals, although others will find it useful. Key Features The definitive resource for healthcare providers and individuals seeking consultation in advance of international travel The definitive resource for healthcare providers and individuals seeking consultation in advance of international travel Accessible content conveyed in easy-to-understand format, including maps.
---
Mobile Apps for Entertainment / Education
Featuring a swimming pool birthday party gone bad!
Fun, Interactive Peek into the World of Epidemiology
Perfect for teens, young adults, and public health nerds of all ages, Solve the Outbreak is a great way to take the study of epidemiology outside the classroom.
Learn about diseases and outbreaks in an engaging way

See how disease detectives save lives around the world

Try your hand at solving an outbreak

Post your scores on Facebook or Twitter and challenge your friends to do better
New, exciting features such as:
New level with 4 new outbreaks

New sound effects and animations

Earn new prestigious honors awards
---
This application has been designed by the Centers for Disease Control & Prevention (CDC) as a way for users to send greetings-on-the-go! The application will allow users to send health eCards directly from their iPhone or iPod touch to friends, family and loved ones. With nearly half of iPhone users and 30% of iPod touch users making health-related inquiries from their device, this application provides a way for health seekers to easily share important health tips with family and loved ones.
Based on CDC's successful eCards' website, this application will feature popular eCards and timely updates to coincide with important health events throughout the year, including American Heart Month, Flu Season, Great American Smokeout, and others.
Funding for this site was made possible by 3U90TP000517-03S2 from the Centers for Disease Control and Prevention (CDC). The views expressed do not necessarily reflect the official policies of the Department of Health and Human Services; nor does mention of trade names, commercial practices, or organizations imply endorsement by the U.S. Government.